General Information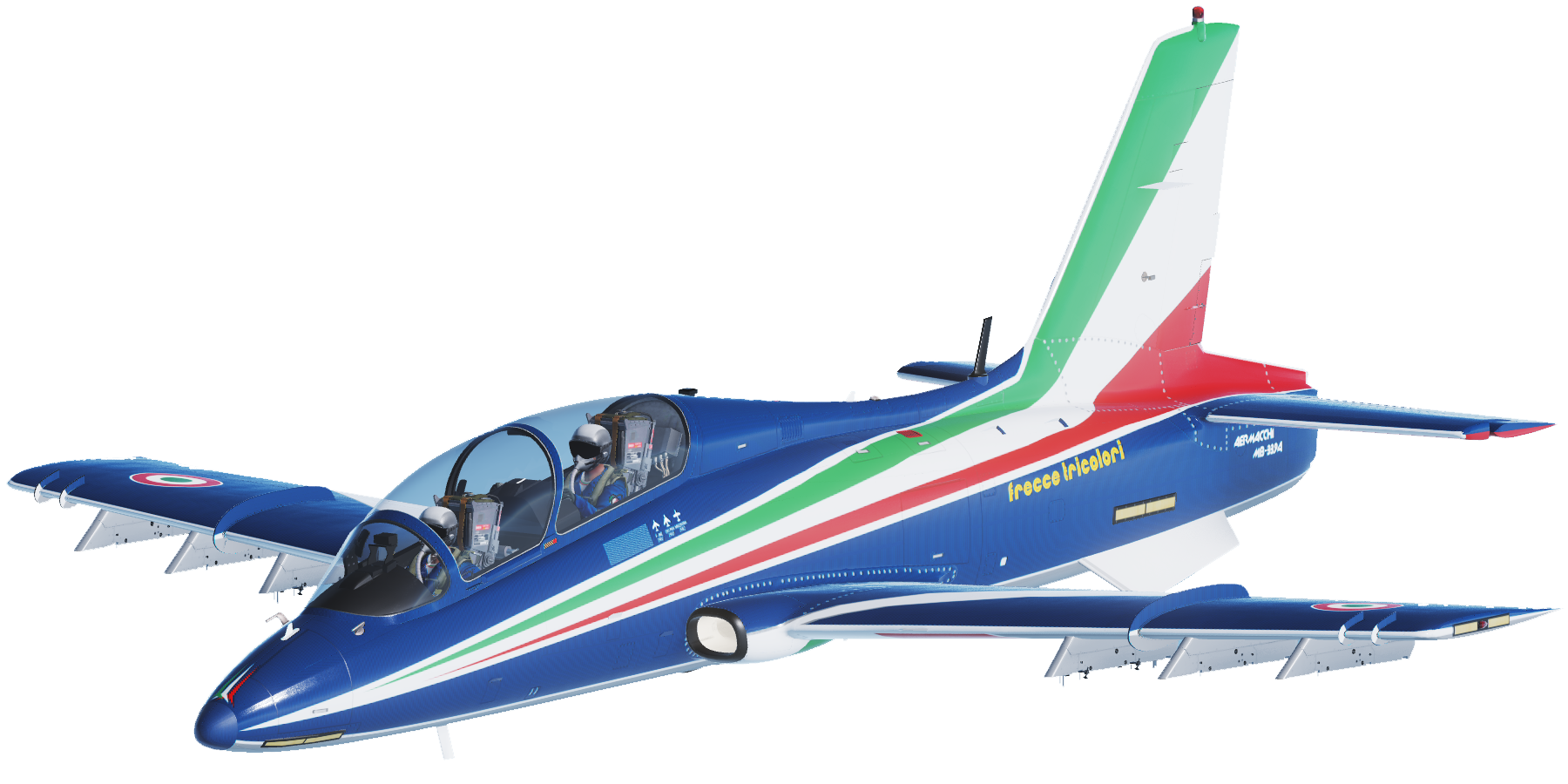 The Aermacchi MB-339 is a light, single-engined training and ground attack aircraft with a low-wing design. The manufacturer is the Italian company Alenia Aermacchi from Lombardy, which merged completely into Leonardo at the beginning of 2017.
About half of the MB-339s produced are used by the Italian Air Force as trainers and, in its more well-known role, by Frecce Tricolori, the Italian aerobatic team. The remaining MB-339s were delivered to export customers as trainers and fighter aircraft, e.g. to the Argentine Air Force, which used the MB-339 during the Falkland War.
The model Aermacchi MB-339 for DCS is a free modification (MOD) with detailed external flight model, developed by the Frecce Tricolori Virtuali provided voluntarily for free. The aircraft is being continuously developed and increasingly replicates all systems of the real aircraft. Informations about how to freely obtain and install the modification is available in chapter Installation.
At the Open Flight School we use the MB-339 as the ab-initio (initial) training aircraft for beginners. The moderate system complexity and lower flight speed, compared to a modern multi-purpose combat aircraft, in combination with the two seat cockpit allow a flatter learning curve and thus better learning environment for the students.
This course is intended for beginners who have little or no knowledge of the Aermacchi MB-339. The course deals with the introduction to DCS simulation, Start up procedures of only the necessary systems, as well as take-off, circuit and landing at the airport. Further topics like radio, navigation or weapon systems will follow in later courses.
We recommend beginners work through the course from the beginning in order to lay a solid foundation for further training sections on the MB-339 or later on more complex aircraft.
In the beginner courses only the most necessary systems and switches are explained. In later courses we extend and deepen these procedures.
The authors and tutors of this course will be happy to answer any questions you may have. You will find them at the upper right corner of this page in the "People" block.